Noodle-less Butternut Sausage Lasagna
Thursday, September 13th, 2018
Ingredients:
14 oz Italian chicken sausage, casing removed
1 tsp olive oil
1/2 large onion, chopped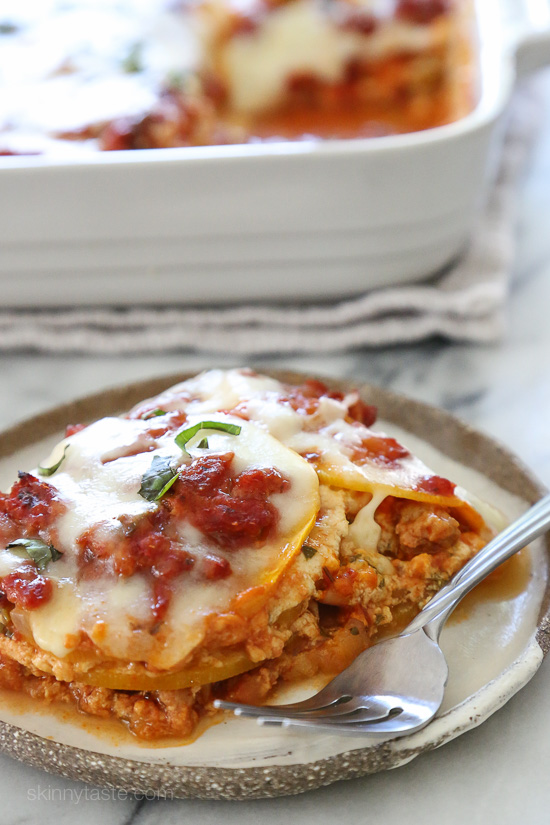 3 cloves garlic, minced
1 (28 oz can) crushed tomatoes
2 tbsp chopped fresh basil
Black pepper, to taste
1 large butternut, peeled (3 lbs)
1 cup part-skim ricotta
1/4 cup Parmigiano Reggiano
2 tbsp chopped parsley
1 large egg
16 oz (4 cups) shredded part-skim mozzarella cheese
Instructions:
1. In a large deep nonstick skillet, brown the sausage breaking the meat up with a wooden spoon until cooked, about 5 minutes. Add onions and garlic and cook until soft, about 2 minutes. Add tomatoes, basil, and black pepper. Simmer on low, covered 15 to 20 minutes.
2. Meanwhile, slice butternut into 1/8″ thick rounds with a good quality spiralizer such as the Inspiralizer with Blade A. To do this, you have to slice the butternut lengthwise halfway through to the center, careful not to cut deeper than that. You can also use a mandolin (be careful) or a sharp knife.
3. Preheat oven to 375°F.
4. In a medium bowl combine ricotta cheese, parmesan cheese, parsley and egg, mix.
5. In a deep 9×12 casserole dish spread 3/4 cup of sauce on the bottom and layer 12 rounds of butternut slices to cover. Spread 3/4 cup of the ricotta cheese mixture, then top with 1 cup of the mozzarella cheese and 1 cup sauce. Second Layer: Lay 12 more rounds of butternut, 3/4 cup ricotta mixture, 1 cup mozzarella and 1 cup sauce. Third Layer: 12 slices butternut, 1 1/2 cups sauce and cover with foil.
6. Bake covered 30 minutes.
7. Remove foil, cook uncovered 30 minutes (this helps dry out excess moisture). Top with remaining cheese and bake until the cheese is melted and bubbling, 5 minutes.
8. Let stand about 5 – 10 minutes before serving.
Makes 8 Servings (serving size 1/8th) Calories: 402; Fat: 19g; Carbs: 30g;
Protein: 29g